X-32
From WeWeWeb Wiki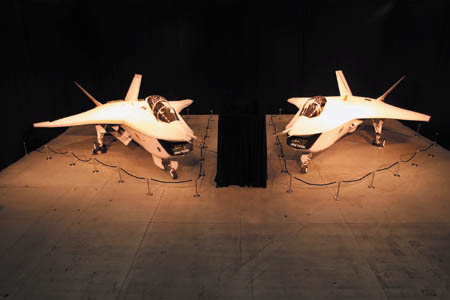 First Flight: September 18, 2000 (X-32a), Scheduled Winter/Spring 2001 (X-32b).
Mission: Concept fighter prototypes for US military Joint Strike Fighter (JSF) program. X-32a provides standard and carrier based take-off and landing. The X-32b will demonstrate short takeoff and vertical landing capabilities.
Major Accomplishments: Ultimate goals include the design and implementation of relatively low cost multiple role fighters for land and sea based operations.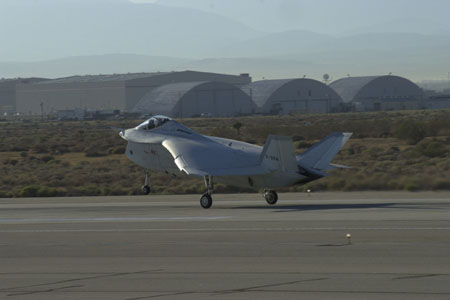 The Boeing Joint Strike Fighter X-32A concept demonstrator takes off on its first flight, meeting a major program milestone. The flight, from Palmdale to Edwards Air Force Base, Calif., marks the aircraft's entry into a five-month flight-test program with approximately 50 test flights totaling about 100 hours to validate the JSF's flying qualities and performance for conventional and aircraft carrier operations. During flight test, Boeing will demonstrate how it has reduced risk in key areas as well as its ability to meet all of the customers' requirements. The X-32A is one of two concept demonstrators Boeing is building to demonstrate the design concepts used for the operational JSF. It will demonstrate conventional takeoff and landing (CTOL) for the U.S. Air Force and carrier approach flying qualities for the U.S. Navy. The X-32B, which is expected to fly in first quarter of 2001, will demonstrate short takeoff and vertical landing (STOVL) requirements for the U.S. Marine Corps and the U.K. Royal Air Force and Royal Navy. The X-32 flight-test program will validate Boeing affordability projections since the same tools and processes used to design, build and test the X-32A will be used in the next phase of the program.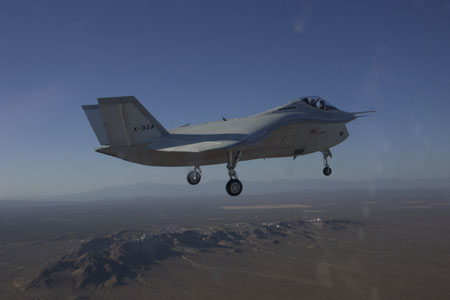 ---
Goto 戰機